The Dominican family in Dunedin joined our five Dunedin and Milton Dominican charism schools to celebrate St Dominic' Day on Thursday  the 3rd of  August at Holy Name Church.  We had a wonderful celebration led by Fr Aidan Cunningham  IC thanks to the participation of students from all the schools and to the Kavanagh College band who did a fabulous job of providing the music and leading us in singing. The Cook Island drumming and dancing during the preparation of the gifts was a real highlight.  Isobel McKewen and Olivia Oram inspired us with their preaching as part of the shared homily. Isobel and Olivia are year 7 pupils at Kavanagh College.  This is what they had to say:
"Blessed are those who hunger and thirst for righteousness, for they shall be satisfied."
But what does righteousness mean?  We might think of words like honesty, goodness, justice, honour and of course Truth.
Dominic lived the Beatitudes and he was dedicated to the truth.  The Latin word for truth is Veritas.  Dominic founded an Order that faithfully lives its motto of Veritas.
He realised that the truth was not merely something that we know, but that it needed to be our way of living.  He was aware that many people had not properly heard God's saving truth, and he wanted to share this truth with as many people as possible.
Dominic knew that the only real path through life would be through the light of truth, the Word of God. He shone a light on the truth of the Gospels for the people.
In St John's gospel it says, 'That the Truth will set you free", and so we really know, that the truth will indeed set us free.  We know, as Dominic did, that God is the source of all truth.  We need to continue to search for the truth in everything we do.
It is important for each of us to know the truth of our world and not to simply accept what others tell us.
Knowing who we are helps us to be open to what God asks of us each day, as we
try to be the best we can
think about how we treat others and
be aware that there is injustice and suffering in our world
Dominic set us an example of prayer and compassion as he taught the truth.  He would listen to the people.  We also need to listen to others and respond with compassion.
So how can we be true to ourselves today, and live in the Spirit of Dominic?  Well, we can follow in Dominic's footsteps by
helping others
being honest
being brave and truthful
And so in order to be truthful we must do more than speak the truth.
We must also hear the truth.
We must also receive the truth.
We must also act upon the truth.
We must also search for the truth, within us and around us.
We must devote ourselves to the truth.
And may God grant us the strength and the courage to be truthful.
 Contributed by Moira Gallagher 
Photos:
Cover photo:
Cook Islanders  Rosalie (5), ReoLena (7) and Asher(10) Cockburn  from St Joseph's Cathedral School who led the offertory procession with drumming and dancing, standing with Fr Aidan Cunningham IC.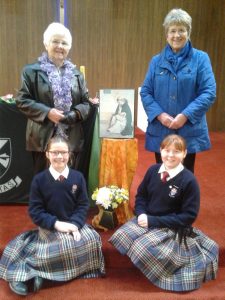 Passing on the tradition:  On the left, Pat McKewen and her Granddaughter Isobel McKewen, on the right, Bernice Armstrong and her granddaughter Olivia Oram.